YO CONGRATS TO
CARLOS
FROM ESTATE LA. ON MAKING THE TOP 50 STREETWEAR BLOGS GOOD STUFF CARLOS. *carlos is the dude that help me get this blog together!!
Check out his site here http://www.solexlife.com/blog
I CAN ALREADY SENSE FEB IS GONNA BE HUGE.
MAGIC.
SUPERBOWL.
ALLSTAR WEEKEND.
I also started off school today i must say CSUF is poppin... anyways you see me say whats up.
HOPE FEB IS BETTER THAN JAN.
here are some new shit thats poppin make sure you support these guys, cause they all fam.
first we have
GRINDTIME
X BOBBY FRESH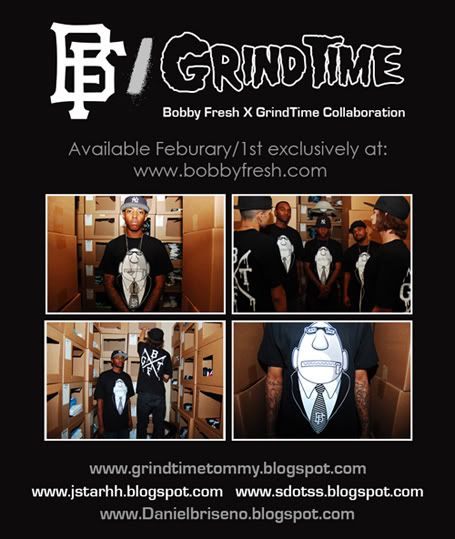 Grindtime
is is definately doing it big. The homies
Sean
and
T-dub (Thomas Wardlow)
holdin it down in AZ!!! GO and support the fam!
GRINDTIME MUSIC
DOIN IT BIG!!
2nd we have
FLosangeles - An LA based brand, just about to jump off, and here are part of their look book. Thanks to the homie Ray (DJ Lunch Box) hope you guys do it BIG!!!!
*this is all i can show for now, but if you wanna see more holla @ me or
Definately go support them. Personally my fav joint is the LA hand Sign jump off shit is dope.
3rd and lastly.
Diamond Supply Co. with that LIMITED ASS DROPS will post pics of it later, but it has to do with Diamond supply co, and eyes, and a beautifulgirl doing a beautiful post on a long sleeve looking beautiful.
oh and hit me on the twitter!
www.twitter.com/tonytones
- Tonytones "if you dont know now you know..."